FULLERTON, CA — The evening was wondrous, reflecting back on his athletic career in
Southern California, where he blossomed as a star. For although Bruce Bowen developed a reputation as a dirty player, he was a defensive stopper and, more importantly, he's a humbled and civilized man.
When he walked onto the stage before a rambunctious audience, Bowen gazed at the crowd emotionally. And from there, it was a story to be told, a tribute for the former NBA legend, leaving behind an extraordinary tale for an irrelevant university.
"These moments here is special," Bowen said. "It's special because this isn't somewhere I thought I'd be. This was never planned for me. This wasn't a scenario, where I thought I would be in the Fullerton Hall of Fame."
It was so astounding, so charming. There was Bowen, interacting and reflecting back with old friends and the university that groomed him for professional basketball, the institution that he evolved into a well-accomplished athlete during his college career. He looked stylish in his orange and blue bow tie and tailor-made suit, proudly inducted into the Titan Athletics Hall of Fame late Saturday evening.
"It was a great opportunity to just thank those who've been there all the way for me," Bowen said. "Sometimes, I think in these environments the guys forget it's not about you. I think it's a great opportunity to talk about those who helped you to get to this point."
It wasn't until he became a four-year letterman for the Titans with roughly remarkable credentials, given his professional stardom and intelligent persona, that Bowen rose to prominence at California State University, Fullerton.
It would be an overreaction to call Bowen the dirtiest player of all-time, because more than ever he was the most physical, hard-nosed defender and tried to pester and frustrate players with his ability to contest every shot by putting a hand in someone's face.
In four grueling quarters, he forced turnovers and deflected passes that orchestrated plays in transition. The most compelling defensive star of the San Antonio Spurs formally was an annoying pest many couldn't stand, peeved by his so-called dirtiest and harassment as a shutdown defender. But in the end, he reached a pinnacle not only in basketball but in everyday life, a prototype of canny mentor for children, portraying an experienced role model for youngsters chasing a dream.
No one ever realized that he was such an unselfish legend. That's probably because he was identified as prideful and immoral ballplayer. That's what made the public in general dislike Bowen. So perhaps it was, by far, the finest night of his lifetime, standing there to deliver his speech after he was honored with an award that gratified Bowen, and merrily the words he shared with the crowd were mellifluous and intellectual.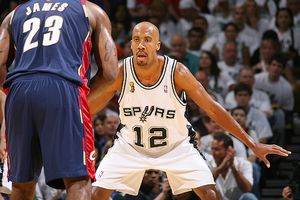 "I think this is part of a legacy that at any giving moment people will always remember that you are part of something special," Bowen said. "So I think that's the biggest thing for me is that I can look back."
But as someone who witnessed Bowen and realized the way he was all over the court like a wildcat on the prowl, it's an exact understanding that he was defense-oriented and played hard every time he stepped onto the hardwood. His aggressiveness and tightness defensively, particularly in his NBA career for breakout seasons with the Spurs, resulted in three NBA championships rings in eight seasons and the league first or second All-Defensive team eight times.
As a college kid, ripening into a star at Fullerton from 1989 to 1993, Bowen was a three-year starter. So he was a three-year starter and a second-team All-Big West in '92-93, tightly stopped the paint penetration and closed in on players — a first-team all-conference in 1992-93. The rationale notably is that he currently ranks in the university's top ten in career rebounds and blocked shots. What does that tell you?
It's telling that he was assertive and prodigal, but not the dirtiest player, just an athletic star with the ability to defend well. It wasn't uncommon or surprising but he never earned the credit he deserved.
In every way, he spent 13 seasons in the NBA and eight with the Spurs, where he obtained a spot on the NBA first or second All-Defensive team eight times and where he was a runner-up three times for defender of the year.
But finally, in the company of Brent Mayne, the Goodwins, Susan Lewis-Newton and Lynn Rogers, he shares the honors with those former Fullerton legends — primarily because he was long overdue when he achieved much as a ballplayer, a well-respected individual who is very unselfish and wise. So now that he was acknowledged with an award, it's quite clear he deserves to be mentioned.
It's time to give Bowen credit when he was bestowed with accolades, a feat every athlete can't accomplish. But now, we can't be blinded by his prosperity seen on the court, and it would be mind-boggling to ignore him as an NBA star. For whatever reason, as it is discovered, he may not be a popular NBA stud but he certainly is appreciated at the university where he engraved a reputation as one of the greatest athletes to ever play at CSUF.
As he mellowed as star in the league, perhaps an unappreciated athlete even when he committed to defense, Bowen became an efficient three-point shooter, posting 5,290 points in his career.
"I'm fortunate," Bowen said. "This is something that I didn't envision, so that makes it much more special."
This was all about Bruce himself. Surely, it does.