So raise your hand if you had the San Antonio Spurs crossing the halfway point in the season with the best record in the
NBA. Sir, sir, …..put your hand down.
The Spurs have been operating like the proverbial well-oiled machine. The offensive spacing and decision making has been, to put it simply, the best in the NBA. The Spurs' offensive system is much like a classic college basketball program with a well established coach at the helm. The system wins the team games as much as talent does.
For example, players like Gary Neal and Matt Bonner, are hitting big three-point shots every night because the system is operating at a high level. The system relies on a delicate balance of a number of factors relying on each other to get someone a relatively high percentage shot every time down the floor. It relies on constant movement and moving in space. Slashing and cutting and keeping the defense off balance. It works effectively on most possessions.That's the beauty of the Spurs' system. You can plug in two guys like Bonner and Neal who 29 other General Managers would pass up but possess discernible skills to Pop which make his system run.
That's the story of the season. Spurs' coach Gregg Popovich's system has all its necessary parts moving together again. This isn't just about getting everyone back healthy again, though that is a major factor. Having Tim Duncan, Manu Ginobilli and Tony Parker all healthy is necessary to make the system run. They are the straw that stirs the drink so to speak.
But Pop's system needs a good wing player to play tough defense and hit open three-point shots. Most good teams have a killer wing player who can light you up if you have no one who can compete with them physically. You need a good defensive wing player to slow them down, and if you are a wing player and can't hit a open three, you aren't playing for Pop. The Spurs haven't had these things in one player since Bruce Bowen was terrifying every wing player in the league.
Now the Spurs have the arrival of the new and improved Richard Jefferson. But his journey to this point hasn't been without bumps. Richard Jefferson was a absolute train wreck last year. Watching him play last year was like watching a car slide down a ice covered hill. You had no idea what was going to happen. After a summer of completely fine tuning his game with Pop, from getting proper form on his shot to really learning the ins and outs of the offense, he is playing committed, aggressive, defense and makes great decisions on offense. His three-point percentage is at a career high and he fits this offense like a glove. His cohesiveness with Manu and Tony makes it seem like he's been with the team 10 years. Jefferson gives them a big, athletic, wing player to throw at Kevin Durant, Kobe Bryant or Shawn Marion. A player with his multitude of skills who accepts such a gritty, thankless role is very rare in this league. Without his emergence, the Spurs would not be on this record-setting pace. The Spurs have found the wing player they have been lacking in recent years probably since Sean Elliott. His improved play on both ends of the floor have as much to do with the Spurs being legitimate contenders as any other factor on this team.
Like any great coach he will tweak his system according to need. Pop's offense is reliant upon optimum efficiency. Like Kenny Smith on TNT said and I'm paraphrasing "The Spurs system is relying on you to take dumb shots because they are going to take good shots every time down the court." With Timmy slowing down, Popovich saw the best way to get good shots and run the most efficient offense possible was to give the keys to the offense to the guards. Manu and Tony dictate the offense now. Henceforth, the Spurs became one of the highest scoring teams in the NBA. The conservative and methodical offensive philosophy is gone. Now it's slashing and dashing guards getting into the paint. It's outlet passes from Timmy and getting out and running. The offense operates at a feverish and at times risk taking pace. Point blank, it's the most exciting Spurs team fans seen in close to two decades, and it's highly efficient. Without this necessary style change, the Spurs would be stuck in that 6-8 playoff seed range, if that. The Spurs needed this if they wanted to kick open that window of opportunity a little wider for a run at the title.
Like all systems you need an alpha male. You need someone to dictate the game, to lead. Manu has unquestionably become the best player on this team. Manu in the past was no doubt exciting, but he was also all over the place and out of control at times. He was someone you couldn't take your eyes off of. The Spurs wouldn't have won three NBA titles in the last decade without him. This clearly is not the case this year.
While he is still the gambler he has always been, he is leading this team down the stretch and seemingly on command having huge fourth quarters when they need him. His maturity level as a player has reached a point where he can takeover as the leader of the offense. Frankly, he has reached a point I didn't know he would ever be ready for. This was a extremely timely metamorphasis as this team needed him to be in this role. His emergence as the leader of this team is only casually talked about or still questioned. But anyone who watches this team closely knows he has taken the reigns, and it is key to the teams success.
I would tend to agree with most analysts that quality, defensive minded big men is the weakness of this team if they had a clear one. This team has struggled guarding explosive, active, young big men. Fortunately for the Spurs, none of the top teams in the west possess such a weapon. The Spurs' big men clearly have weaknesses, but their strengths are key to this system operating at a high level.
Duncan is scoring and rebounding at the lowest levels of his career while playing the least amount of minutes. But he is still the tone-setter on defense and his selflessness in accepting his current role on offense should never be forgotten. Sometimes he goes three to four offensive possessions in a row without touching the ball. A player of this stature doesn't become this good without ego. Duncan has a healthy ego, and for him to take this role only enhances his legacy as a top ten player of all time. The Spurs absolutely would not be in this position if he let his ego get the best of him and made Pop rip the keys to the offense out of his hands. Spurs fans call this just being a Spur, but this is a extraordinary level of selflessness.
DeJuan Blair plays brilliantly at times, and every couple of games you get really excited about his performance. The one glaring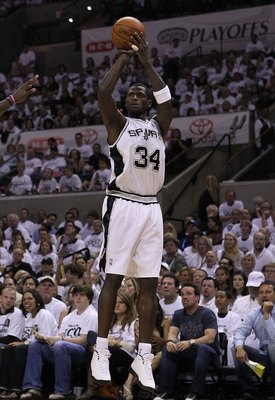 hole in his game is he has no consistent jumper. Once that develops, and it's showing signs this year of becoming a real weapon, watch out. McDyess brings what he has traditionally brought to the table a nice jumper, good rebounding and solid defense. He continues to bring this every night and is the model of consistency. Bonner gives the team a great floor spacing big that is deadly from three-point range. He is fairly limited beyond that but the skill he does bring to the table is so important. He opens things up for the whole offense. Pop has said he is the best shooter he has ever had. That's saying something. Tiago Splitter doesn't yet fit on this team. He doesn't have a mid-range game to play on the floor with Duncan for long stretches like McDyess can. However, Splitter is very skilled. He is great at drawing fouls on both ends of the court and is a great passer. The Spurs are a year away from really unleashing Tiago.
What all the bigs can do on this team is pass, and at a very high level for big men. Which is key for this system. They draw attention then pass out to someone beyond the three-point line who may see a passing lane for a open cutter or open three-point shooter then that opens up a play for a high-percentage shot. The key to this system is keeping the defense off balanced until someone is found for a high-percentage shot. The Spurs bigs are great at making the secondary pass that leads to a bucket. If this is the Spurs' biggest weakness, I'll take that on my basketball team any day.
Lost in the hoopla that is the revamped Spurs' offense or the shocking find the Spurs' front office made with Gary Neal, is probably the best sixth man in the NBA — George Hill.
He is the Spurs' best on-the-ball defender and good enough to start on most teams in the league. The Spurs typically have him guard the opposing teams best offensive player. He is absolutely tenacious on defense and isn't afraid of anyone. He famously got into that finger-pointing standoff with Lakers' Kobe Bryant after frustrating him all night. His value in the playoffs will be immeasurable to the Spurs this year. Hill is sneakily developing into a excellent player. With guards like him and Neal coming off the bench, the Spurs' bench is absolutely daunting for opposing teams.
The Spurs' system is so ridiculously exploitative of players best attributes it turned a journeyman European League veteran, who wasn't even the best player on his team in the Spanish League, into a valued rotation player on the best team in the NBA. Neal has two great skills Pop absolutely loves. He's smart, as he came in right away and learned the Spurs' system it seems almost immediately, and he can hit three-pointers regularly. Would he be in the NBA right now without the insanely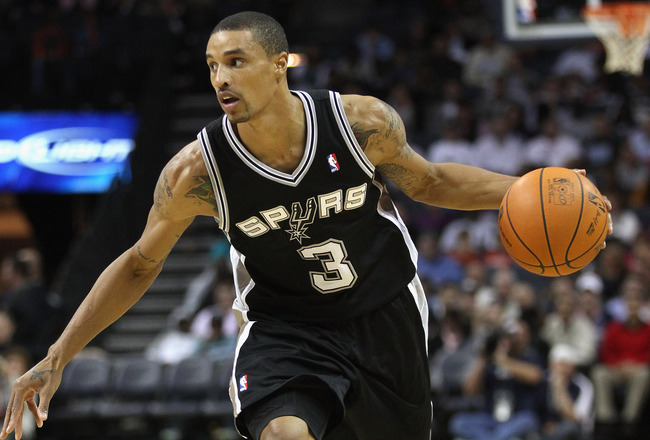 diligent front office and coach Pop? Almost certainly not. The front office saw the Spurs had a notable weakness that ended up biting them in the playoffs. Lack of consistent three-point shooters. The Spurs went out and dug out a cheap and very good option out of the scrap heap.
The Spurs also tried to solve this problem via the draft in drafting what was seen at the time as another draft day steal in James Anderson. He came and showed why the Spurs coveted him so much. He played great for a rookie coming into this complex system with legends of his chosen craft relying on him to become a solid rotation player. That's a tall order for a young kid straight out of college. Imagine going to business school and immediately after graduating you are thrust into a situation where Lloyd Blankfein the CEO of Goldman Sachs is working on projects with you and expecting big results. That's what James Anderson encountered on his first day at work. Tim Duncan, Manu Ginobilli, and Tony Parker were expecting production out of the young kid pretty early. He was expected to learn a system that took a seasoned veteran like Richard Jefferson a whole season and then a whole off season to master. I'm expecting big things out of that kid in the future. The Spurs' bench guards are all under 27 and really good. The future is bright in San Antonio.
This first half season really couldn't have gone more swimmingly for the Spurs. They have the best record in the NBA and show no real signs in slowing down. This is what happens when you give a chess master like Popovich all the pieces he needs to run a competent offense. In the past couple of years Popovich was always missing a needed key weapon necessary for playoff success. This year the Spurs addressed all their glaring weakness in the offseason and they don't have any area you can point to and push the panic button. If the Spurs remain healthy, they clearly look like the best team in the Western Conference and could be looking at a fifth Spurs championship in what is becoming one of the most historical franchises in NBA history.
Follow Jake on Twitter at: @upstait