Team Name: San Antonio Spurs
Last Year's Record: 50-32
Key Losses:Roger Mason Jr., Keith Bogans, Ian Mahinmi, Malik Hairston
Key Additions:Tiago Splitter, James Anderson, Gary Neal
1. What significant moves were made during the off-season?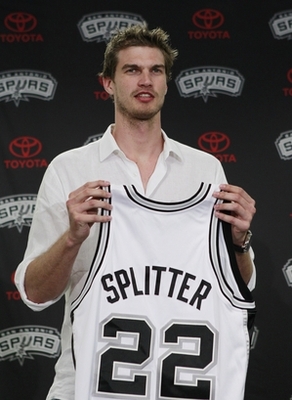 The Spurs went into the offseason looking to fill the void on their two biggest weaknesses. The Spurs have gone through the Mohammeds, Elsons and Obertos trying to find a legitimate, reliable center to play next to Tim Duncan. After drafting Tiago Splitter in 2007, the Spurs finally got their man this summer as Splitter decided to opt out of his contract with Caja Laboral to come stateside. While Spurs fans still wait to see him play in the silver & black, his debut is highly anticipated. With Splitter, the Spurs get a player who has mastered the pick-and-roll and doesn't mind doing the dirty work to let someone else score. His back to the basket game is improving by the year and he'll have Tim Duncan, one of the greatest players in the NBA, to mentor him. Splitter is also very active and aware while out on the court and will jump into passing lanes occasionally.
The 2010 playoffs were a clear sign that the Spurs needed some help beyond the arc, and they may have filled that void with the additions of James Anderson and Gary Neal. The Spurs struck gold once again by picking Anderson 20th in the 2010 NBA Draft. The former Big 12 Player of the Year and first team All-American was considered one of the best shooters in the draft and was highly ranked among shooting guards, but a hamstring injury he suffered scared several teams away from drafting him. While Anderson isn't yet in game shape, he's showed signs during preseason that he may be able to steal some minutes away at backup small forward and play better defense than expected.
Neal was a pleasant surprise out of summer league. He came into summer league after playing three years in Europe, and stole the spotlight from other players by averaging 16 points per game on 50 percent shooting from the field. In one game against the Grizzlies, the Spurs went on a 13-0 first quarter run. All 13 points were scored by Neal, who went on to finish with 25 points and 60 percent shooting from beyond the arc. The Spurs were impressed enough with Neal to hold off all other suitors and sign him to a multi-year contract, and it looks to be paying off. Of all the Spurs' new players in training camp and preseason, Neal has looked most comfortable and he'll make Tim Duncan a happy man if he can rely on Gary Neal to drain his outside shots.
2. What are the team's biggest strengths?

The Spurs still have the big three and all are healthy after a full offseason free of international play. Parker and Ginobili are in great shape and both are extremely focused on getting back to the finals. The Spurs are a much deeper team with a second unit consisting of George Hill, James Anderson, Antonio McDyess and Tiago Splitter. The "old" label is no longer relevant as they come into the season with three rookies, two second-year players and Hill, a third-year player who is playing beyond his years. And you can't talk about the Spurs' strengths without mentioning Gregg Popovich, who is still considered one of the best NBA coaches and one of the best at making adjustments, according to GMs across the NBA.
3. What are the team's biggest weaknesses?
The proverbial window is their weakness and with every injury, that window gets frustratingly closer to closing. While Duncan, Parker and Ginobili are the team's greatest strengths, their propensity to injury is also their biggest weakness. Injury to any of the big three could change the entire season.
4. What are the goals for this team?
After hearing from just about every player on this team, the only goal is a championship. Anything less would be a failure. Getting Tim Duncan his fifth ring means more to these players than any individual accomplishments, and although they know the Lakers are still the team to beat and just about everyone already has the shipping label for the O'Brien trophy going to South Beach, this team is younger, more determined and focused.
Predicted record: 54-28
Keep reading Project Spurs today and the rest of this week as we continue our season preview series of articles.